Review by Paige Wagner
---
The first time I ever went to an escape room was years ago, and I remember being slightly confused by the concept, but I had such a blast once I was there! And honestly, now they're one of my favourite things to do for outing with friends or family. I've done about 10 already, some better than others, and mostly from a handful of different escape room locations around Edmonton.
For those who don't know, when you play an escape room, you're in for an adventure.
You and a team of usually between 2-8 people are locked in a themed room (the doors aren't actually locked in case of emergencies, but for the sake of the game it's best if you pretend they are). I've done rooms with stories centred around anything from laboratories to farms to Hogwarts School of Witchcraft and Wizardry to Arthurian legend.
To escape, you'll find clues and solve puzzles as the story unfolds around you. In a well-designed room, finding answers and codes is extremely satisfying and you're bound to have a good laugh with the people you're playing with. It's a truly immersive experience.
My roommates and I, just having gotten through midterms, wanted to do something fun. We figured, given the rising number of coronavirus cases in Edmonton, an escape room would be a good option. It seemed safe considering we would be in a room by ourselves.
This was my first time trying an escape room from Edmonton's Escape City. They had five rooms to choose from, which is fairly big selection. From my experiences, most places usually have about three.
My friend Cassidy picked out The Cabin – the story being that while trapped in a record-breaking snowstorm you find a cabin, but once you step inside, the door locks behind you.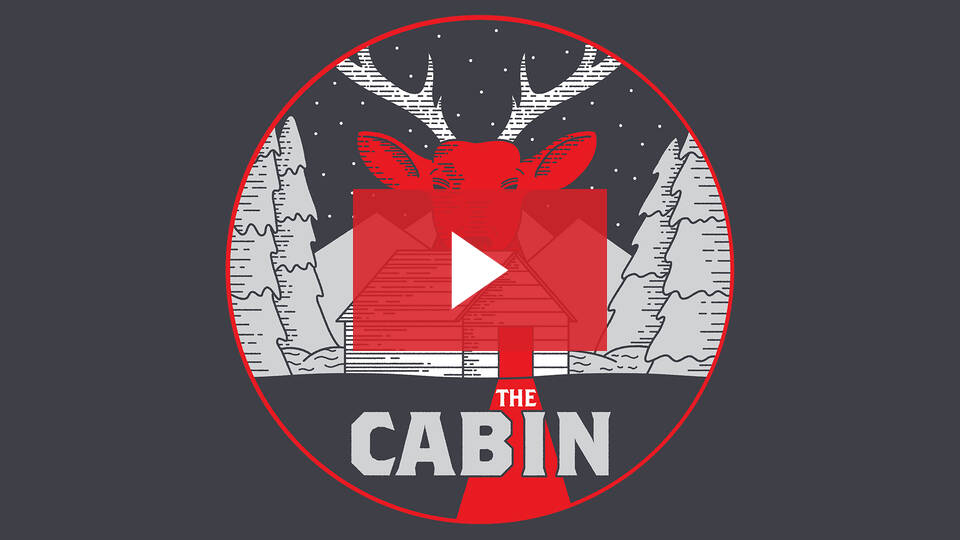 The Cabin Escape Room – Escape City (use link to see the trailer, not the arrow in the image)
Escape City's trailer for The Cabin made it look very spooky, despite the fact that the 'Scare Scale' for the room on Escape City's website wasn't terribly high. It was plenty spooky for my tastes, though Cassidy, a huge horror fan, was slightly disappointed.
When booking the room, I accidentally booked us an hour earlier than I thought I had (not that the book process was complicated. I suppose I just wasn't paying attention). As we were getting ready to leave, Escape City called to tell me that we missed our booking. I explained that I must have made a mistake and they were extremely understanding. The time I thought I had booked was still open, so they rescheduled us right away and despite my mistake everything still went according to plan.
When we arrived, we signed the waivers and paid. Admission for the 45 minutes you have to complete The Cabin was $26.50, which is a very average escape room price, in my experience. They had an extra $2 'Covid surcharge' per person for additional cleaning and physical distancing measures. While I think that is completely fair, I do wish they had mentioned it on their website, as it came as a surprise.
In addition to the surcharge, because of coronavirus, their lockers weren't available, and we had to bring our personal belongings into the room. Usually, escape rooms discourage you from bringing anything in, especially cell phones (which are usually not allowed at all), so that you can't cheat or leak details of the room to people who haven't experienced it yet. They had us lock our cell phones in a cage, so that while we had them with us in the room, we couldn't use them either way. Once again, I understand this safety decision on their part, but it would've been nice to know beforehand as we would've probably left our jackets in the car if we knew we would be carrying them around with us.
I obviously don't want spoil too much about the room itself, but it was very well put together. It wasn't the most high-budget room I've ever played, but it was far from being one of the cheaper ones. When you walk in, the lights flicker and a small, staticky TV in the corner of the room lights up. Usually, an employee will give you a rundown of the situation and story of the room. The Cabin, however, used a fake news broadcast to explain the snowstorm, which was way more immersive in my opinion.
Details in the room made the story Edmonton specific, which is something I've never seen done before. The fact that it revolved around the disappearance of four UofA students, added to the eeriness for us – four UofA students. The fact that it was able to hit close to home, really helped The Cabin stand out against other escape rooms.
The puzzles weren't too hard, but they weren't too easy either. I say that with both beginners and seasoned escape-room-goers in mind. They were primarily word-based puzzles, and happily (in my opinion at least) didn't involve math much more complicated than counting to five. There was enough going on in the room that all four of us could be working on solving a clue or puzzle without being crowded around the same piece of paper (which was super nice. I find that when everyone is trying to do the same thing at the same time is when people can start arguing).
The biggest issue I had with The Cabin was that some locks and puzzle pieces seemed a little too well used and could be difficult to work with. For example, at one point we were 100% certain that we'd found the combination for a locked safe. We turned the dial, and it didn't open. We tried again, and it still didn't work. After a couple minutes of fighting with it we used one of our hints to call an employee to come give us a hand with it. As we thought, we had the correct answer. The lock really had to be forced in order to get it open though. Even the employee seemed to struggle a bit. This was frustrating, especially since we were told beforehand that if we felt we were using a lot of force to get something open, it wasn't supposed to be opened.
We didn't manage to make it out of the room in time, but we were so close (we probably would've made it if it weren't for the jammed lock!). That wasn't an issue to me though. In my opinion, it's a lot more fun hurrying to try to figure everything out as the clock ticks down to zero than it is to escape in 15 minutes and only spend half of the time you paid for in the room.
Since we were so close to the finish, one of the employees showed us the last step before letting us go. They took a group photo of us in the room, which they texted to our phones and they offered us each a sticker with the logo of The Cabin as we were leaving. Obviously, these aren't things that would make or break my experience at Escape City, but they were nice gestures that left me with a very good impression of the place and the people that work there.
Overall, my roommates and I had a wonderful time. Escape City is a very professional escape room centre with well-designed games and wonderful staff. While The Cabin didn't necessarily blow me away, it was everything an escape room needed to be. We had plenty of exciting and satisfying 'aha moments' as we pieced all the clues together and it was easy to feel immersed in the story unfolding around us. I would love to return to Escape City to try out their other rooms.
Their pirate themed room, Mutiny, looks like it a ton of fun! And who doesn't love pirates?
---
Escape City
5916 104 St NW
780-761-2489
Website
---