Step away Sherlock, it's Millie Bobby Brown's turn in the limelight!
review by Georgia Englot
---
Almost as soon as Harry Bradbeer's delightfully quirky movie, Enola Holmes, begins, Millie Bobby Brown dominates the film and captures hearts and attention. "Now where to begin," she questions, as the titular character, cycling across country hillsides while quickly catching us up to speed on her life's story, namely her relationship with her mother, the enigmatic Eudoria Holmes, played by the iconic Helena Bonham Carter.
We are immediately introduced to the movie's unique style with flashbacks interspersed with clippings from books and drawings styled like a scrapbook. Within the first two minutes, I was hooked.
Harry Bradbeer, best known for his award-winning work on TV shows such as Fleabag (2016-2019), Killing Eve (2018) and The Cops (1998-1999), has undoubtedly made an impression with the movie Enola Holmes. Harry Bradbeer isn't the only one grabbing attention; this movie was co-produced by Millie Bobbie Brown herself and her older sister Paige Brown (the first producing credits for both Browns).
The Netflix original is gaining a lot of attention, finishing its opening week as the top Netflix movie in Canada. Mainly mystery but part Victorian coming of age, part comedy and even part adventure, this film has something for everyone.
Enola Holmes is based on the book series Enola Holmes by Nancy Springer, created and published from 2006-2010. The series has six books in it and was written for young adults as a detective novel series.
Designed for a younger, more modern audience, the movie clearly differs from the older Sherlock Holmes books and movies. The story's premise is relatively simple; Enola's mother, her teacher and her main companion, disappears on Enola's 16th birthday. This means she's left in the care of her much older brothers, Mycroft and Sherlock Holmes, who haven't seen her since she was very young.
Mycroft wants to send Enola to a boarding school to be properly educated as a young woman, but Enola doesn't want that kind of life and sneaks away one night on a mission to find her mother. On her way to London, she encounters young fellow runaway, Viscount Tewkesbury, Marquess of Basilwether (Enola insists on referring to him by his full title), and rescues him from an attacker who seems to be trying to kill him.
From here, we are introduced to ever-multiplying mysteries and plot lines, which are mostly wrapped up by the end of the film, if a bit rushed. It all seems quite complicated, but Enola narrates her own story with a matter of fact, relentlessly hopeful and joyful tone, and it's easy to follow the many moving pieces flitting in and out of focus.
There are elements of romance that I felt were unnecessary but at least developed naturally and without much fuss throughout the movie. Viewers are left with some unanswered questions and room to explore at the end of the film. It felt as if they were purposefully making space for a sequel, which I would welcome wholeheartedly.
You might imagine that an iconic character like Sherlock Holmes would pull attention from Enola's storyline, but the film is excellent at centring Enola while allowing other characters to complete their character arcs. While some critics have argued that the movie's tone is too "trite" for the Sherlock canon, I believe the movie is more of a Sherlock Holmes for a younger, more modern audience. Much like Enola herself, the movie has elements of Sherlock Holmes canon, but steps away from that and stands on its own.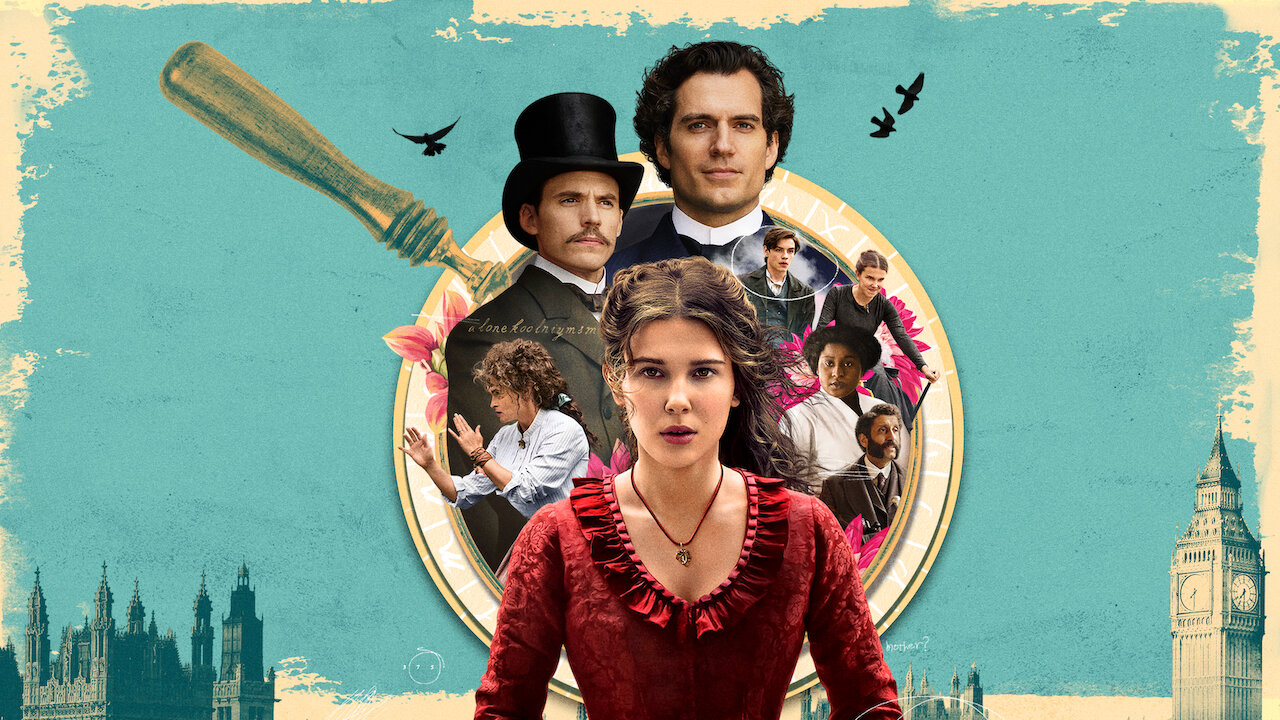 This movie boasts a star-studded cast featuring Millie Bobbie Brown (Stranger Things– Eleven), Henry Cavill (Man of Steel – Clark Kent, The Witcher-Gerald of Rivia), Sam Claflin (Me Before You – William Trainer, Catching Fire – Finnick Odair) and Helena Bonham Carter (Harry Potter – Bellatrix LeStrange).
A casting of note: while often teenagers are played by much older actors, both Millie Bobby Brown and her character are 16 (though Millie Bobby Brown was 15 during filming). For once, a teenaged character actually looks like a (professionally polished) teenager!
In the same vein, while many historical films leave out actors of colour for "historical accuracy," people of colour were cast in roles which would usually be reserved for white actors, such as a Scotland Yard detective. The ensemble features many people of colour alongside white actors without their race being a plot point. Despite the powerhouse cast, the movie doesn't rely on name recognition to grab viewers' attention.
Stylistically, this movie stands out from traditional films set in the Victorian era. Fans of Wes Anderson will be reminded of his particular style in Enola Holmes' use of symmetrical, character centred shots and scrapbook-style cutaways. Countryside scenes are bright and filled with beautiful landscape shots. Scenes in London take on a darker, more monotone look, but the frequent use of flashbacks reminds us of the world's beauty. There are also several explosive fight scenes which are beautifully choreographed without the over-editing that plagues many popular action movies.
While the entire cast does well in their roles, Millie Bobby Brown is, without a doubt, the star, not only because of her titular role but because of how much joy and sincerity she brings to Enola. In the wrong hands, Enola could have quickly become annoying with her naivety, tendency for the dramatic, and fourth-wall-breaking narration, but Millie Bobby Brown makes viewers fall in love with her almost instantly.
This movie would quite literally not exist without Millie Bobby Brown, and with her acting and production guidance, it shines brightly. I can see this becoming one of Millie Bobby Brown's most iconic roles and perhaps the beginning of a career behind the camera, especially given that they are almost certainly going to make more of these films.
From beginning to end, Enola Holmes sparkles with joy and energy. The story has some- thing for everyone and is sure to engage everyone, no matter their age or interests. With a rating of PG-13, this is a fantastic movie for a family movie night. It is the perfect film for preteens who aren't quite ready for more adult movies but have grown bored with cartoons.
Why not set aside some time to enjoy the pure joy and fun that is Enola Holmes?
---
Enola Holmes
Available on Netflix
---